News › ZEISS · Invi­ta­tion to the Micro­scopy Day in Jena
Trends in micro­scopy, the topic of sus­taina­bi­lity and the ZEISS Lat­tice Lights­heet 7 sys­tem, nomi­na­ted for the Ger­man Future Prize, will be the focus.
ZEISS is hos­ting Micro­scopy Day today under the motto »Wis­sen­Schafft­Zu­kunft« (Know­led­ge­Crea­tes­Fu­ture) at the Volks­bad in Jena. The more than 300 guests from rese­arch and sci­ence in Ger­many can expect a diverse pro­gram of lec­tures, work­shops and dis­cus­sions with insights into light, elec­tron and X‑ray micro­scopy from ZEISS.
Prof. Dr. Joa­chim Mayer, Joint Labo­ra­tory for Elec­tron Micro­scopy (GFE) RWTH Aachen Uni­ver­sity and Ernst Ruska Cen­ter for Micro­scopy and Spec­tro­scopy with Elec­trons Rese­arch Cen­ter Jülich will speak in his key­note about mate­rial deve­lo­p­ment with cor­re­la­tive micro­scopy and in this con­text will high­light con­tri­bu­ti­ons to the suc­cess of the energy tran­si­tion. Also deal­ing with sus­taina­bi­lity will be the pre­sen­ta­tion »Sustainability@ZEISS – Our acti­vi­ties for a sus­tainable future« by Dr. Roya Akha­van, Pro­ject Mana­ger for Sus­taina­bi­lity at ZEISS, and Dr. Mar­kus Esse­ling, Head of the Pro­duct Cen­ter for Elec­tron Micro­scopy at ZEISS. In his pre­sen­ta­tion, Dr. Bern­hard Zim­mer­mann, Head of Life Sci­en­ces at ZEISS, will pro­vide insights into the latest micro­scopy pro­ces­ses for new trends in the life sciences.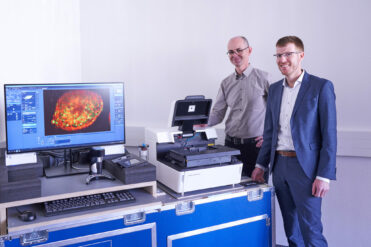 Exten­sive work­shop program
During the day, users will be able to learn about the latest micro­scope sys­tems in work­shops, inclu­ding the ZEISS Lat­tice Lights­heet 7, which has been nomi­na­ted for the Ger­man Future Prize 2022. The novel micro­scope for gentle 3D ima­ging of living cells enables rese­ar­chers to observe sub­cel­lu­lar dyna­mics in 3D over hours and days, some­thing that other micro­scopy tech­ni­ques have not pre­viously allo­wed. This opens up new pos­si­bi­li­ties, for exam­ple, for can­cer rese­arch or the under­stan­ding of early deve­lo­p­men­tal stages of life. The prize will be awarded by Ger­man Pre­si­dent Frank-Wal­ter Stein­meier to one of the three nomi­na­ted teams on Octo­ber 26, 2022 in Berlin.
Num­e­rous work­shops will be held on this and many other pio­nee­ring tech­no­lo­gies such as con­fo­cal, fluo­re­s­cence or scan­ning elec­tron micro­scopy, demons­t­ra­ting to par­ti­ci­pants, for exam­ple, the basics of micro­scopy or the various appli­ca­ti­ons for research.