News › ZEISS · Micro­scope Deve­lo­pers Win the Ger­man Future Prize 2022
The deve­lo­p­ment of the ZEISS Lat­tice Lights­heet 7 for gentle 3D ima­ging of living cells hono­red with the Ger­man President's Award for Tech­no­logy and Innovation.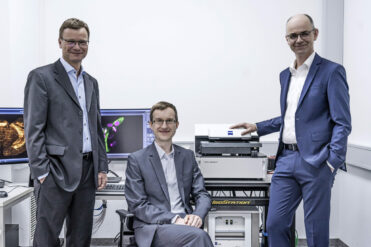 Ger­man Pre­si­dent Frank-Wal­ter Stein­meier today awarded the ZEISS team the Deut­scher Zukunfts­preis 2022 in a fes­tive cerem­ony. In doing so, the jury reco­gni­zed ZEISS experts Dr. Tho­mas Kalk­bren­ner, Dr. Jörg Sie­ben­mor­gen and Ralf Wol­le­schen­sky for their signi­fi­cant con­tri­bu­tion to the deve­lo­p­ment of the ZEISS Lat­tice Lights­heet 7 micro­scope system.
»We are deligh­ted to receive the Ger­man Future Prize and are very proud of the team behind the extra­or­di­nary deve­lo­p­ment per­for­mance of the ZEISS Lat­tice Lights­heet 7,« said Dr. Jochen Peter, Mem­ber of the Manage­ment Board of the ZEISS Group. »At the same time, the award is a nice con­fir­ma­tion of our company's inno­va­tive strength, which pro­mo­tes eco­no­mic and social pro­gress in equal measure.«
With the prize, the Ger­man Pre­si­dent honors sci­en­tists for out­stan­ding tech­ni­cal, engi­nee­ring and sci­en­ti­fic achie­ve­ments as well as soft­ware and algo­rithm-based achie­ve­ments that lead to appli­ca­tion-ready pro­ducts. It is endo­wed with 250,000 euros. In addi­tion to sci­en­ti­fic excel­lence, a cle­arly reco­gnizable bene­fit for society, the envi­ron­ment and the eco­nomy is also cha­rac­te­ristic of the award-win­ning projects.
On the trail of the living cell
ZEISS Lat­tice Lights­heet 7 enables bio­me­di­cal rese­ar­chers for the first time to observe living cells for hours or days in live and 3D. They can use it, for exam­ple, to inves­ti­gate how cells react to cer­tain active ingre­di­ents or what hap­pens when viru­ses or bac­te­ria pene­trate cells. The pro­blem that sci­en­tists have pre­viously faced when stu­dy­ing living cells with fluo­re­s­cence micro­sco­pes is the illu­mi­na­tion: the inten­si­ties of the laser radia­tion used are a fac­tor of 1000 hig­her than those of the sun. This intense illu­mi­na­tion can cause las­ting damage to living cells. A decisive reduc­tion in this pho­to­da­mage is achie­ved by so-cal­led light sheet micro­scopy: unlike all other micro­sco­pes, the laser radia­tion – in the form of a light sheet – is only intro­du­ced into the area of the sam­ple that is in the focus of the objec­tive. To do this, the team had to tame the laser in a spe­cial way and com­ple­tely rear­range the objec­ti­ves as cells grow on cover­slips in cul­ture ves­sels such as Petri dis­hes and mul­ti­well pla­tes. They deve­lo­ped a com­ple­tely new type of micro­scope optics that can be used to look obli­quely through sam­ple ves­sels from below to the cell inside wit­hout caus­ing image errors. All of this was deve­lo­ped into an easy-to-use, com­pact sys­tem with high auto­ma­tion potential.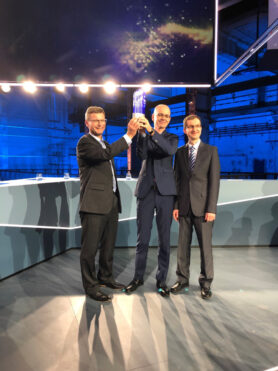 Inno­va­tion as part of the cor­po­rate identity
ZEISS has been nomi­na­ted seve­ral times for the Deut­scher Zukunfts­preis, and in 2020 even with two teams. The rese­arch team from ZEISS, TRUMPF and Fraun­ho­fer was awarded the Ger­man Future Prize 2020 for the deve­lo­p­ment of EUV lithography.
Inno­va­tion is a tra­di­tion at ZEISS. It is ancho­red in the company's DNA, so to speak. As part of the cor­po­rate stra­tegy, it is always in the con­text of society as a whole and at the same time forms the basis for fur­ther growth of the ZEISS Group. ZEISS the­r­e­fore invests thir­teen per­cent of its reve­nue in rese­arch and deve­lo­p­ment work.
Opti­cal tech­no­lo­gies are essen­tial for pro­gress in life sci­en­ces, medi­cine, infor­ma­tion tech­no­logy and tele­com­mu­ni­ca­ti­ons, auto­mo­tive, con­su­mer and many other areas. Mee­ting future cus­to­mer needs with pro­ducts, ser­vices, solu­ti­ons and busi­ness models, offe­ring added value and pro­vi­ding bene­fits are the con­cerns of all ZEISS innovations.